~
---

..

.compton

.config

.fonts

.icc

.icons

.irssi

.local

.mpd

.ncmpcpp

.themes

.vim

.vimperator

codepaste

firefox

links

scripts

stuff

vivaldi

www

.Xresources

.asoundrc

.pypanelrc

.screenrc

.vimperatorrc

.vimrc

.xinitrc

.zshrc

about.$

analytics.$

comments.$

donate.$

help.$

license.$

sitemap.$
---
~
about.$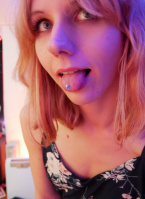 So you've stumbled upon this site and having no idea what you're looking at?

Well first off;
Me to the left, owner and creator of this website aka twily and more recently, analie.

I'm a trans cam girl from Norway in my late twenties.
This website has been a hobby project for me the last few years, originating from 4chan/g/ desktop threads.

So what is this website?
'Dotfiles'; scripts, configuration and customization files (mostly for linux).
(Oh and the website itself have been an experiment to me as well).

This site is an archive as much for me as for everyone else. Use it for what it is.
Files can be used 'as is', a 'framework' to build on or simply a 'reference guide' to look up stuff etc., customize and personalize them to your liking.

The files found around here are both stuff I still use and used to use.
Everything should be up to date to the last time I used it, however some things I no longer use and haven't updated in a long time may not work properly anymore.

You can use the 'sitemap' file to search for files and see when they where last updated.

If you want to see some of my scripts in action there are some videos and pictures in the 'stuff' directory.


Enjoy your stay ~ Twily :3
Top
---
1 273 123 visits
...
^
v